If you're looking for a way to save money and have fun at the same time, PoolTogether is the answer! It's a protocol that allows you to save your crypto and to play a game.
The game gives you a ticket that can make you win more money every week, and even if you don't win, you don't lose your money or tickets.
Under the hood
Let's see on an example how the PoolTogether protocol works under the hood.
For example, you can buy a ticket for 1 USDC. This USDC is then combined together with other USDCs that people used to buy tickets, and then sent to Aave, where it earns interest.
Every week, the interest is collected and used as rewards in PoolTogether. Anyone who holds a ticket has a chance to win one of the rewards.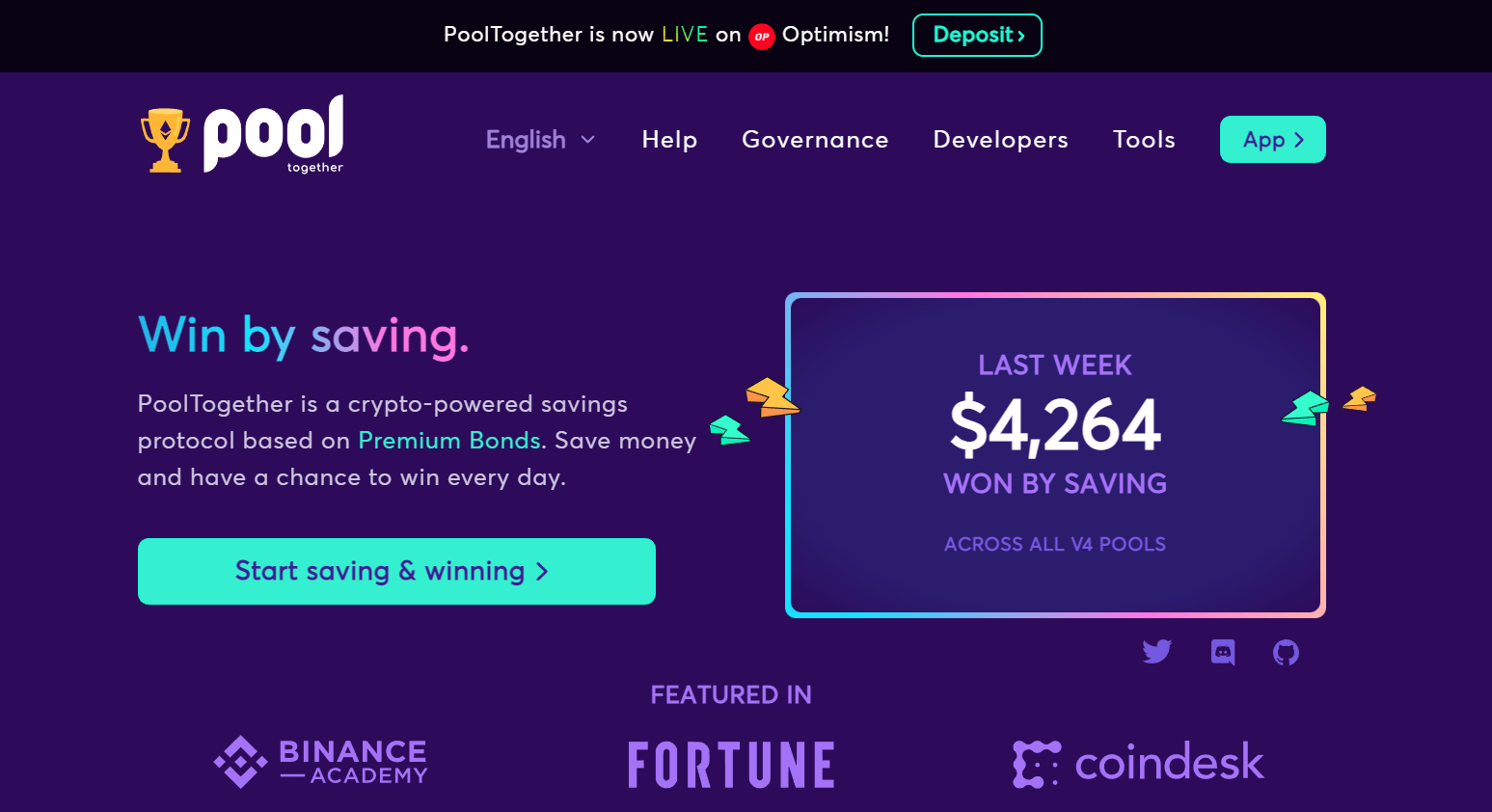 If you get tired of the game and decide not to participate anymore, you can sell your ticket back to the protocol and receive back the same amount of USDC that you intially paid for the ticket.
Let's dive deeper into the world of PoolTogether and PoolTogether Names (.pool) and find out what it's all about.
The Founding Story of PoolTogether
PoolTogether was founded by Leighton Cusack and Brendan Asselstine in 2019. The idea behind PoolTogether was to create a savings game that would incentivize people to save money.
The game is based on Premium Bonds, which are a type of savings bond issued by the UK government. Since its inception, PoolTogether has become one of the most innovative and exciting projects in the blockchain space.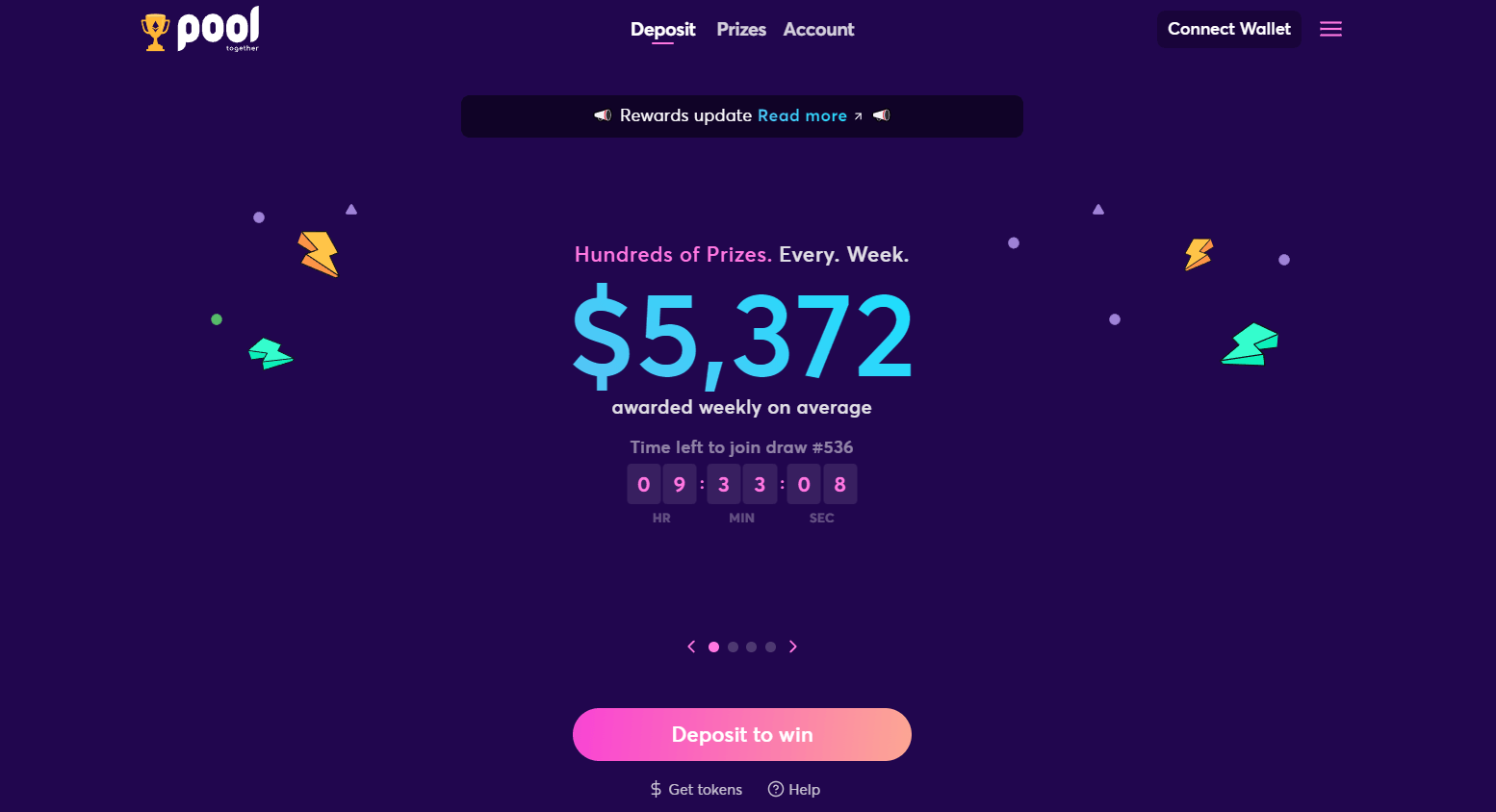 PoolTogether: More Than Just a Game
PoolTogether is a protocol governed by a decentralized autonomous organization (DAO). This means that it's controlled by the community of POOL token holders, who can vote on how to improve and manage the protocol.
PoolTogether Inc. is a company that created and launched the PoolTogether protocol, but it does not control or own it. The company still supports and contributes to PoolTogether but as one of many participants in the DAO.
Achievements to be Proud Of
PoolTogether has achieved a lot in a short amount of time. But what makes the team behind it most proud is the amazing community they've built.
The community is made up of people from all over the world who come together to help each other and contribute to the protocol and DAO.
The Future of PoolTogether
In the next five years, PoolTogether aims to become the go-to platform for incentivizing people to save money.
It plans to achieve this by building a new hyperstructure that will combine all yield into a single token by continuously liquidating yield for the prize token.
This affords these major advantages:
Supports larger prizes
The design supports any number of assets and yield sources
Prizes are adjusted automatically to ensure there are both large and plentiful prizes
The protocol runs autonomously without any kind of governance
New assets and yield sources can be added permission-lessly
Partnership with Punk Domains
PoolTogether has partnered with Punk Domains to create a PoolTogether Names (.pool) for its community. The decision to partner with Punk Domains was made after a community vote.
PoolTogether Names are not only a short version of user's wallet address, but also function as a web3 username in the upcoming Web3 Social.
With .pool domains being hosted on the Optimism network and functioning as NFTs, they offer the benefits of blockchain technology like security, immutability, and decentralized ownership.
In addition, .pool domain owners can attach other information to their domain such as a website, social media handles, and profile picture, making it an all-encompassing online identity.
You can set up your own website on .pool domain using Pool Limo, an excellent tool developed by the PoolTogether community member @trmid.
Moreover, the Punk Domains protocol is open source, allowing other decentralized applications to integrate .pool names into their own app, thus expanding the reach of this unique feature.
By owning a .pool domain, users can showcase their connection to the PoolTogether community, while also benefiting from the added functionality and security of owning a blockchain-based NFT.
Get your own .pool domain here: https://names.pooly.me/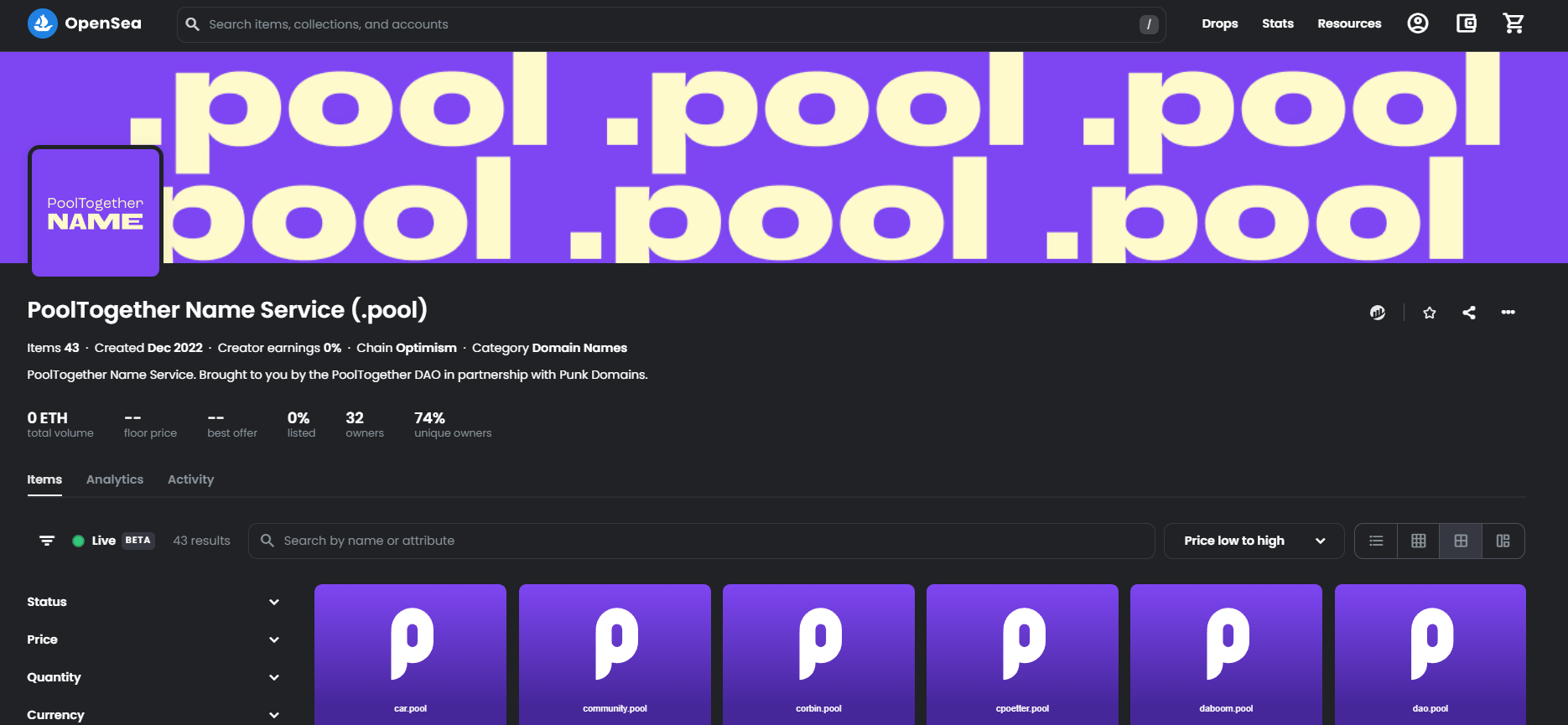 Join the PoolTogether Community
Everyone is welcome to join the community and participate in the DAO to help make PoolTogether the best it can be. 🎉🏆